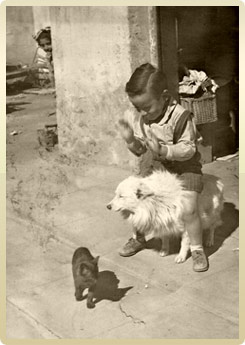 Raul, in 1944, playing with Bijou, his fathers' Pomeranian and Cachin his cat.

LAS PAMPAS KENNELS HOME OF THE DOGO ARGENTINO
"OUR EXPERIENCE WITH THE DOGO ARGENTINO DOES NOT COME FROM THE MERE READING OF BREED BOOKS OR HEARSAY, BUT FROM 60 YEARS OF INTERACTIVE PASSION WITH THE BREED FROM ITS VERY BEGINNING....!"
The existence of Las Pampas Kennels is in all parallel to that of the DOGO ARGENTINO breed. It all goes back to Argentina in 1944, where Raul Zeballos, an inquisitive boy, was receiving from his grandfather Argentine Senator Andres Brizuela, an education in canine breeds.

In 1948, Argentine middle-weight boxing champion Amado Azahar, from Cordoba, visited Raul's neighbors home and brought news that Dr. Antonio Nores Martinez had developed the first Argentine breed of dogs, called EL DOGO ARGENTINO.

Raul got spell bound with the news and for the following two years, begged his grandfather for a DOGO ARGENTINO puppy.

After considerable effort from Senator Brizuela, on April 22, 1950, the developer of the breed, Dr. Antonio Nores Martinez sent Raul "Dogo de Los Incas", a two-month-old male DOGO ARGENTINO puppy.
| | |
| --- | --- |
| "Dogo de Los Incas" on the day of his ear crop | Raul shows his Dogo at a BBQ, with Bijou looking on. |




"Dogo de Los Incas" fully developed at age 3




Later, in the 1950's, Raul Zeballos attended the University of Cordoba and there he became acquainted with Dr. Antonio Nores Martinez and other members of his family. In those years, Raul was fortunate to spend many hours learning about the development of the Dogo Argentino and the philosophy behind the creation of this breed. He was extensively educated on the Dogo Argentino morphology and function. This inspired Raul to continue in the footsteps of Dr. Antonio Nores Martinez in preserving the original standards of the breed and keeping his Dogo Argentino unchanged.



In the early 1960's Raul Zeballos, now a Geologist, moved to the capital of Neuquen Province, in South Argentina and there, he met Amadeo Bilo and Elias Owens. These two men were outstanding hunters and owned most of the existing Dogo Argentinos at that time. Soon thereafter, Dr. Agustin Nores Martinez (Antonio's brother) moved to Neuquen for his appointment as President of the State Supreme Court.

Because of this extraordinary coincidence, many of Raul's days there, for the following three years, were spent assisting Dr. Agustin in field trials of Dogo Argentinos in the wilds of Patagonia. Countless evenings were spent discussing the breed and the specimens of Dogo Argentino.


Field trials in Patagonia. "Kob de Las Pampas"
holds a Boar.


Young Dogos attending a crash course
on boar hunting.


"Kob de Las Pampas" awaits his mating with
"Pampa del Chubut" in September of 1964.


Kob and Pampa inspect their five new pupies
born on November 15, 1964


In his book EL DOGO ARGENTINO, published in 1969 Dr. Agustin Nores Martinez selected "Kob de Las Pampas" as the typical specimen of the breed, in conformation, temperament and hunting ability".

Dr. Agustin also chose "Kob de Las Pampas" to open the registry of the DOGO ARGENTINO breed and to illustrate its standard submitted with his request to Federacion Cinologica Argentina for recognition of the breed.

Out of the KOB/PAMPA litter, one male puppy, "Tromen", was kept at Las Pampas Kennels.
"TROMEN's Certificate of Origin signed by Dr.Nores Martinez"


On January 17, 1970, Dr. Raul Zeballos brought the first six DOGO ARGENTINO'S to the United States of America. The two documents displayed below are export papers for three adults and three puppies issued by the Argentine authorities.




The following two documents are USA Customs clearances for the first six Dogo Argentinos to ever come to the USA

.










Local and State press announced the arrival of the DOGO ARGENTINO.




Raul playing with his newly arrived Dogo Argentinos in Quanah, Texas, and hunting badgers with them in the Pease River Basin.





Within this same year of 1970, Raul Zeballos contacted AKC & UKC regarding recognition
of the breed, which they denied.






Just recently, those groups decided to include the Dogo Argentino in their registries and/or stock foundations. Unfortunately, and in spite of our efforts, they incorporated their own changes to the DOGO ARGENTINO original breed standard. Thus, they actually are supporting a "different breed" under the Dogo Argentino name.
In 1970 the first litter of Dogo Argentino puppies was born in the United States, 7 born, all males.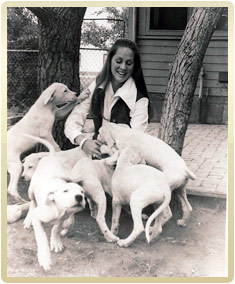 Later, in 1971, those puppies demonstrated their hunting ability before a group of Texas Lawmen.










Because of his career, Dr. Raul Zeballos had homes in both Colombia and USA. In 1974 he introduced the Dogo Argentino in the Republic of Colombia. For the Colombian Kennel he used the name "LOS ANDES KENNELS".
| | |
| --- | --- |
| | The first litter of Dogo Argentinos born in Colombia was on the ground in January 1975. |
| | |
| --- | --- |
| By the end of the 1970's Las Pampas Kennels relocated to Houston, Texas where its excellent DOGO ARGENTINOS continued to be bred. | Guayacan and Chacho de Los Andes. |
| | | |
| --- | --- | --- |
| In the 1980's the Colombian Dogo Argentino operation (Los Andes Kennels) relocated to Del Mar, California. | | The first litter of Dogo Argentino Puppies born in California. |

Mean while, in Colombia, our Dogo Argentinos won the first ACCC titles for the breed.

In the 1990's there was a new wave of interest in the Dogo Argentino breed in the United States, resulting in shows sanctioned by clubs and rare breed groups.
At that time, all our kennel activities were relocated to Pennsylvania, in the USA, and we imported the best available Dogos from Argentina to add new blood to compliment our existing lines. Among them, we brought the 1993 World Champions, Falucho de Los Medanos and Rebeca del Naitupe.
| | |
| --- | --- |
| Falucho de Los Medanos | Rebeca del Naitupe |
From our first litter born in Pennsylvania we obtained one World Champion, Altiva de Las Pampas, and one International, Champion, Champion of the Americas and Central American Champion, Andromeda de Las Pampas, TT.
| | | |
| --- | --- | --- |
| Alba, Altiva and Andromeda de Las Pampas. | | |
After 1997 Las Pampas Kennels stopped showing their Dogo Argentinos, as an expression of their disagreement for the changes of the breed standard sanctioned by FCA and FCI.
Las Pampas Kennels are currently located in West Palm Beach, FL, where they continue their life-time commitment as Dogo Argentino breeders of excellence.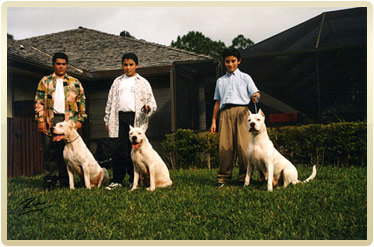 Raul Jr., Andres and Pedro Zeballos with their three World Champions.


WE SEE WITH DISMAY THAT MANY HAVE BORROWED OUR "LAS PAMPAS" NAME OR ARE USING DERIVATIVES TO TAKE ADVANTAGE OF OUR GOOD WILL WITH THE BREED. WE ARE THE ONLY BREEDING KENNEL REGISTERED WITH ARGENTINE CYNOLOGIC FEDERATION (FCA) AND FÉDÉRATION CYNOLOGIQUE INTERNATIONALE (FCI), UNDER THE NAMES OF "LAS PAMPAS", "LOS ANDES", AND "PENNSYLVANIA". THIS MAKES US THE ONLY AUTHORIZED LEGAL USER OF THOSE KENNEL NAMES, AS WELL AS OF THOSE SUFFIXES AFTER THE NAMES OF OUR ARGENTINE DOGOS. (I.E. "JUANON DE LAS PAMPAS", "TROMEN DE LOS ANDES" OR "PAMPERO DE PENNSYLVANIA").